11 février 2007
As I said on my last post, I was waiting for a high-warp loom. I got one. Not the one I expected but this little thing is a high-warp loom, called Lotus Loom. It was used mostly to make small wall hangings and pillows. I have leaflets of instructions for those but frankly, it makes me think of the 1970's.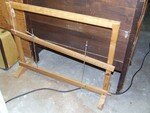 Anyone have experience with that kind of loom? What comes to mind is South-American motifs with wool... I did a search and found nothing at all. I'd like to see some recent work to inspire me. I see it also as a way to use some of that stash that will never be knitted...
Loom saga to be continued...
The week was quiet. Beside making lot of tiny quilting stitches for my boutis, I prepared topstitching thread and beads for the beaded crochet class I am teaching on Monday. Then, Monday evening will also be the beginning of the stuffing of this boutis.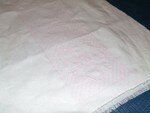 Have a good week
Commentaires sur Weaving...