07 février 2007
When I woke up at 3:30 in the morning, the heating system was off...and wouldn't start! It was 5F outside so not really a good night to lose it. I dressed and cuddled under the covers til my man came back from work. Gladly, he can do everything but it took a good 3 hours before it restarted. While waiting, I worked in my studioin the basement as the halogen lamps were enough to make it comfortable. Weirdly, the basement was warmer than the main floor. All this to say that getting to spend time in my studio leaded to this: The Safari Knitting bag.
That is the perfect knitting bag. It's long enough for every knitting needles I have to lay at the bottom and the opening is large enough to keep it open on a table so the yarn never have to get out and risk getting dirty. I will shorten the handles a bit by removing the cheap gold chain but overall, I like it.
During the week, I had time to play a bit and dabbled a bit with the Chelsea Bag. I had no zipper so I did with what I had in hands. It's not too bad but I am preparing a second one with a zipper. My studio table is filled with bags and bag patterns in all stades of completion. Some are for swaps and others...just because.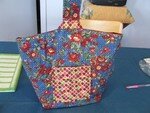 That also means no knitting for me yet. I enrolled in a boutis class and well... I am very unhappy. For the past 4 or 5 years I searched and learned about boutis, collected books and patterns and pictures and informations and well, the teacher isn't doing it as it should be. Guess what I'll be doing? I can try boutis by myself after all.
Lastly, a new tool is supposed to enter my house tomorrow...as if I needed it! A high warp loom... haute-lisse loom. That is a vertical loom mostly used to make tapestries. I'll give it a try and if I don't like it, it will go visit another studio. More to come about this.
Commentaires sur Frozen...inside the house!