23 janvier 2007
We finally had snow… too much snow and cold. Winter is slowing me down. I just feel like cuddling under a quilt and even though my head is full of new ideas, mostly for bags, laziness win most of the time.
I made two fabric bags. The first one was just for the fun of it and the second one, to use with my knitting project so it needed to be long enough for my needles to fit in.
Well, my old metal needles fit but not the bamboo ones so I draw another pattern and will sew it as soon as I have time.
Beside the sewing, I crocheted a hat for the 12 Accessories knit along. I won't wear it as no hat fit me well but it will be put in a craft basket that will be raffled in April. The hat was crocheted from a Dot pattern using some Galway I had in my stash… you know, using stash yarn like in destashing…
By chance, I didn't commit to any Destashing project…phew. I couldn't resist getting a couple of skeins of wool-mohair from Angora des Neiges, a small company in the Laurentian Mountains. Then, while going out with a friend, she drove me to a shop where they sell Patons so I had to buy at least a little… got 2 balls of 100% wool and 2 balls of Kroy sock yarn. Not my fault, she drove.
So nothing is forgotten, I also lighted the torch and came up with a few beads. I have a hard time taking good bead pictures with my camera so those are the only ones that came out not too bad.
Finally, looking back, the week wasn't so bad! That's beside the sample I did for the crazy quilting embellishing class I'll teach next monday and believe it or not, I even did some housechores and laundry.
Have a nice week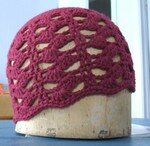 Commentaires sur Now that's winter!