23 avril 2007
Even though it's in French, I know some of you can read it. I invite you to participate in our new Boutis-Along. It's the right time to finally try this technique which seem to scare a lot of people. We'll share informations, motivation, pictures and fun.
10 avril 2007
A bit of time to upgrade this blog. I've been upgrading my French blog with pictures but never had time for two. So here is a little overview of what I did since last time.
Thrift shopping
Cleaning
Knitting
Sewing and making jewelry for swaps
I was also gifted with those from 2 swaps
I still have two swaps in the making, am working on my garb for my brother's medieval wedding, made beads, am working on some beadwork... and am out of breath; all this while Mr. Atkins diet is doing marvels on my blood sugar and general health.
That's what I call a synthesis!
12 mars 2007
Working on samples for classes. Still have classes every monday til April 2, then I'll be able to work on my own projects. This is the beginning of a sample for my crazy quilting embellishing class and a netting sample for my beading class.
As I had to prepare samples for a beading class too, I got out my beads and did surf a bit on beadwork sites to see what's new and began drooling over this site and this one. Now I just can't wait for Serafini's book to be out so I can get it. It's due out September 2007 and you can be sure I'll watch for it. Gladly I have an issue of Bead and Button where that same artist gave basics instructions to make that kind of bead embroidery neckpieces and I am slowly planning one. Slowly I said....In fact, I am waiting for a bead order and to find a couple of focal beads or stones...perhaps I might even make them myself.
To make you droll, also visit theses: Laura Mc Cabe , Joan Babcock and Free Spirit
For those who like mix-media including fiber arts and beads, Myra Wood is a must.
Meanwhile, when I have a bit of free time, I am working on swaps. Until now, I enrolled in three swaps, one in which I have to make a bag that is done, one in which I have to make an etui or other contraption to store craft material and one in which I have to make something corresponding to the ethnicity my swap partner like. All three are well on their way of completion but I can't post full pictures just yet so not to spoil my swappee's pleasure.
Have a good week.
28 février 2007
Just too buzy to do everything I'd like to do. March is the last month of classes so soon, I'll be free to work on my own projects and finally do something worthy.
During the past two weeks, I worked on class samples in beadwork; hardanger; paper-piecing; crazy quilting... I worked a bit on my boutis which is almost completed but since I don't like it, I am not in a hurry to finish it. Gladly, I had a bit of time to light the torch and make beads. This is so relaxing. It is really the only craft I do which prevent me to think of something else. So here is all I can show from the past week of work, a watch for myself and a necklace and earrings for one of my son's friend who is having her graduation ball.
I am on the lookout for Battenburg lace patterns, ideally of the vintage pre-printed on fabric kind. Anyone have some for sale or know where I can get one or two?
Have a good week.
18 février 2007
Sometimes I need just that, a quick project that make me feel like I actually did something of my time. When a whole week goes by and I have nothing to show, I feel useless.
The French magazine Idées had the perfect project for me. A dishcloth bag. Useful, ecological, reusable...what more can we ask for? Done with 2 dishcloths there is a leftover big enough to make a wine bag. Next time I have a little gift to bring to a friend, that will be presented in this bag.
Now I am on the lookout for the cutest dishcloths I can find.
11 février 2007
As I said on my last post, I was waiting for a high-warp loom. I got one. Not the one I expected but this little thing is a high-warp loom, called Lotus Loom. It was used mostly to make small wall hangings and pillows. I have leaflets of instructions for those but frankly, it makes me think of the 1970's.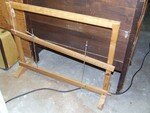 Anyone have experience with that kind of loom? What comes to mind is South-American motifs with wool... I did a search and found nothing at all. I'd like to see some recent work to inspire me. I see it also as a way to use some of that stash that will never be knitted...
Loom saga to be continued...
The week was quiet. Beside making lot of tiny quilting stitches for my boutis, I prepared topstitching thread and beads for the beaded crochet class I am teaching on Monday. Then, Monday evening will also be the beginning of the stuffing of this boutis.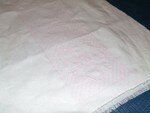 Have a good week
07 février 2007
When I woke up at 3:30 in the morning, the heating system was off...and wouldn't start! It was 5F outside so not really a good night to lose it. I dressed and cuddled under the covers til my man came back from work. Gladly, he can do everything but it took a good 3 hours before it restarted. While waiting, I worked in my studioin the basement as the halogen lamps were enough to make it comfortable. Weirdly, the basement was warmer than the main floor. All this to say that getting to spend time in my studio leaded to this: The Safari Knitting bag.
That is the perfect knitting bag. It's long enough for every knitting needles I have to lay at the bottom and the opening is large enough to keep it open on a table so the yarn never have to get out and risk getting dirty. I will shorten the handles a bit by removing the cheap gold chain but overall, I like it.
During the week, I had time to play a bit and dabbled a bit with the Chelsea Bag. I had no zipper so I did with what I had in hands. It's not too bad but I am preparing a second one with a zipper. My studio table is filled with bags and bag patterns in all stades of completion. Some are for swaps and others...just because.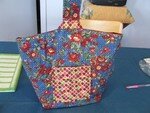 That also means no knitting for me yet. I enrolled in a boutis class and well... I am very unhappy. For the past 4 or 5 years I searched and learned about boutis, collected books and patterns and pictures and informations and well, the teacher isn't doing it as it should be. Guess what I'll be doing? I can try boutis by myself after all.
Lastly, a new tool is supposed to enter my house tomorrow...as if I needed it! A high warp loom... haute-lisse loom. That is a vertical loom mostly used to make tapestries. I'll give it a try and if I don't like it, it will go visit another studio. More to come about this.
27 janvier 2007
The coldest day of the winter! BRRrrrrrrrrrrrrr... Time to stay home and knit.
Gladly, this temperature didn't prevent the mailman from coming to deliver some new yarn I ordered from Rochelle at Grand River Yarns. Never had such a FAST service and am very happy with what I got. I mailed payment on January 17 and had my order this morning, less than 10 days including the week-end!
I got this wonderful Zephyr wool-silk in the Juniper color and it's already in use to become this Été Indien easy shawl. No pic of the shawl yet since it's only in it's first rows.
Also got this neat cotton blend, already in cakes which saves me a lot of time. Those cakes are big, 250 grams each so enough for a big scarf or small shawl.
Happy Day!
23 janvier 2007
We finally had snow… too much snow and cold. Winter is slowing me down. I just feel like cuddling under a quilt and even though my head is full of new ideas, mostly for bags, laziness win most of the time.
I made two fabric bags. The first one was just for the fun of it and the second one, to use with my knitting project so it needed to be long enough for my needles to fit in.
Well, my old metal needles fit but not the bamboo ones so I draw another pattern and will sew it as soon as I have time.
Beside the sewing, I crocheted a hat for the 12 Accessories knit along. I won't wear it as no hat fit me well but it will be put in a craft basket that will be raffled in April. The hat was crocheted from a Dot pattern using some Galway I had in my stash… you know, using stash yarn like in destashing…
By chance, I didn't commit to any Destashing project…phew. I couldn't resist getting a couple of skeins of wool-mohair from Angora des Neiges, a small company in the Laurentian Mountains. Then, while going out with a friend, she drove me to a shop where they sell Patons so I had to buy at least a little… got 2 balls of 100% wool and 2 balls of Kroy sock yarn. Not my fault, she drove.
So nothing is forgotten, I also lighted the torch and came up with a few beads. I have a hard time taking good bead pictures with my camera so those are the only ones that came out not too bad.
Finally, looking back, the week wasn't so bad! That's beside the sample I did for the crazy quilting embellishing class I'll teach next monday and believe it or not, I even did some housechores and laundry.
Have a nice week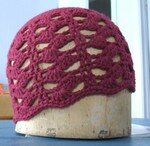 14 janvier 2007
Yep, no snow yet. Temperatures are a bit colder but hey, who am I to complain. I much prefer this to icy roads and snow.
I put on my thinking cap this week and might have some changes for 2007. Usually, I am not selling my work but for a few pieces at are comissionned. I have a hard time to let go the work I love and well, I love most everything I do. In 2007, I will add stuff for sale in my photo album here and might even create a web site especially for selling my creations: beads, purses, felting...a bit of everything. I am taking my time to develop something interesting but already added a few pieces for sale in my album. Please take a look and let me know if there is something special you would like. I am open to suggestions.
Beside that, I love swaps. I am always ready to swap fabrics, yarn, bits and pieces for crazy quilting... a bit of everything in fact so I intend to add an album with what I have to swap. To begin with, I enrolled in two blog-world swaps:
The SwapAndSwap is a totebag swap and the Swap Créatif is a container-étui-bag swap with it's material.
Also, I signed up for 12 Accessoires, a work-along for one different accessory a month that can be sewn, knitted, crochet or else. It's bilingual and promise to be motivating and inspiring.
I completed the thumb on my Fetching and wore them. I sure will use that pattern again as it's fast and easy but will add a pattern at the bottom and a pattern at the top as I find them too short.
Like Purse-Ho I have a passion for purses and can't resist a leather purse at a good price. While shopping for a red purse to replace a broken one, I couldn't help but get this superb italian buttery-soft leather purse with it's dust bag that was at 75% of it's price. After all, I had no blue purse yet. Of course, I also got the red purse I was looking for.
Have a good week